A Good Time To Look For a New Job?
I was in Home Depot yesterday and overheard one employee telling another, "Don't look for a better job now. You should wait until this whole thing is over and then see what's out there."
At a recent staff meeting, we were talking about just how few resumes were posted on ZipRecruiter and how it appeared that nobody was looking for work.
I'd like to offer my take on what's ahead for the job market, and perhaps offer some advice to anyone who is "waiting."
Unemployment in Erie County over the last 30 years has ranged from about 4% in the good times and pushing 9% in the bad times. At 3.7% (just 3 months ago) a typical tradesman could name his price and someone would pay it. 9% is what they call an "Employers Market." Unemployment as of May 11, 2020, is just under 15%—almost 70% higher than it's ever been in our lifetimes!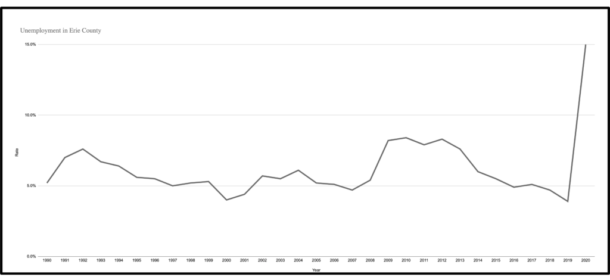 In an employer's market, companies can and do set the bar pretty damn high. You have very little to negotiate with because if you don't like what they're paying someone else will.
If all goes as planned the world will open back up and everything will be as we left it. But we know that that would be unreasonable to expect. The truth is many companies will file for bankruptcy, or just quietly close their doors, leaving lots of folks flooding the job market.
More than likely we will see a recession making a good job difficult to find. The Unemployment checks will not last forever.
What's happening with companies?
Despite all the negative rhetoric in the media, many companies DID get the Payroll Protection Program (PPP) money from the Small Business Administration. The terms of the PPP stipulate that the company who accepted the money has to be at full employment by June 30 or they risk losing the possibility of any of the loan being forgiven. In other words, most companies are trying to reach hiring quotas right now!
What better time to get established in a great position with a stable, growing company?
Bringing it full circle
What I am seeing is that companies are hiring, but they've already set the bar pretty high. All that means is that you have to put on your game face and get serious about how you present yourself.
Update your resume. If you've worked with Sqrft in the past, it's likely that we already have most of it and need only to update your most recent employers. Just ask and we will give you a copy.
Think about references. Solid endorsements from folks that you've worked with in the past are invaluable.
Work on your Brag Book. Spend a minute detailing the work that you've done. List your projects—as many as you can. Every accomplishment adds value to your resume.
The future is too uncertain to wait until the last minute to start a job search. Take action now so you have better options.
We're here to help
I don't believe in luck—but I do believe in being ready to act when opportunity happens.
I think most companies will take their time to hire the right person(s). Your job is to be in front of them when the time is right.
Not all construction companies hire through us. Just the best ones ;). Give us a call to talk about it.
~John Krytus, Owner