Warehouse Yard Manager for Drywall Company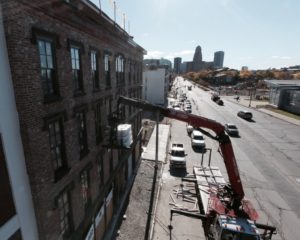 The job of our Warehouse Manager is to keep 5-15 jobs at a time supplied with materials and whatever else they need to get the job done without interruption.
In it for you
Autonomy. For the most part, you'll be left alone.
You get to organize, strategize, improvise…and fix things.
Overtime…lots of overtime.
The work is not as hard on the body as hanging 5/8 board.
Monday through Friday 6:30 am—3:30 pm (but probably 5:00 pm) and sometimes Saturdays
$300 towards health insurance, 401K, EAP, a week of vacation, 6 holidays, and a company smartphone.
The challenges
You answer to more than one project manager. It is not unusual for two people to ask for the same thing, days apart without knowing the other person already asked for it. If you're not careful the job site will end up with double product. Ask a lot of questions, and ask the right questions.
You need to be ridiculously organized and have the ability to prioritize. Everybody wants their thing done immediately—and that's impossible. The smart money knows that they need the track before they need the drywall.
The only plan that you can depend on is that your original plan won't work. Of course, you need to plan. Just know that you're going to need to change it …a lot.
"3:30 Emergencies" are always challenging. You're trying to clock out and go home and at the last minute, the plan for tomorrow morning changes. Everything stops. The guys who are going to help you need to stay late. The truck that was already loaded for tomorrow gets unstrapped and reloaded. Phone calls may need to be made to mobilize 3rd parties, re-arrange schedules. Make tomorrow morning happen!
A lot of moving pieces mean that communication will inevitably break down. How you anticipate will be critical. For example, the sheet says to put j-channel on the truck. What we don't know is if it is FRP, drywall, or vinyl. Your warehousemen need to ask the right questions.
In addition to making sure the jobs are stocked, you also have under your purview 3 buildings, a huge yard, 4 trucks, forklifts, rental equipment, fireproofing equipment, and a bunch of pumps that always seem to have stuck check valves.
You need to know when to delegate. If you're planning for next week and you delegate that today, inevitably that will be a problem.
You'll do better if you understand the business.
You'll do better if you have some mechanical ability. It's nice if you can occasionally just fix it yourself instead of shipping it out and having to wait. If your good, you can pre-bend metal for the jobs in the shop.
Location: Buffalo-Niagara RegionPay: $20/HOURType: Full Time JobJob No. 574-18634Status: ClosedKeyword(s): Construction Trades, Manufacturing Trades, White Collar, Logistics, Manager, Warehouse, WarehouseDate Printed: Dec 7, 2023
Register now to learn about jobs like this