Commercial Roofing Superintendent Assistant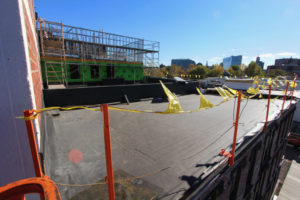 For more than 10 years I've enjoyed working at our 3rd generation commercial roofing company here in Western New York. My job title is Commercial Roofing Superintendent. I am hiring a new Assistant Manager with the goal of eventually promoting to Manager.
Your job will be to assist in making sure that the job is built exactly as it was specified when it was sold.
A typical day for us might include multiple conversations with Owners and a variety of Foreman. We manage people—hire, reward, reprimand, and fire if necessary. We buy materials for current and upcoming jobs, negotiate for services (like trash removal, asbestos testing, or engineering). Projects need to be organized and moved through the queue. Paperwork, drawings, and specifications need sorting and then to be handed off to the right people. Warranties, permits, porta-potties, safety, timecards, conflict resolution, welded corners or not—all need to be handled in a way that makes it look easy. We'll teach you what you don't already know.
The ideal candidate:
Might have a construction management degree. Alternatively, a degree from the School of Hard Knocks could work.
Will have some field experience, and/or be willing to get some
Will have skills in CADD and be good on a computer
Will be detail oriented and good with math.
Offered is:
A respectable compensation and benefits package
Our environment is that of a family business with great leadership, but with big commercial professionalism.
Why:
We've had 3 generations to figure out how to get business done right. As far as commercial roofing companies go, we are stable, consistent and profitable.
People enjoy working here. Most of our lead field and office team members have been with us for at least 20 or thirty years. The average field employee has been with us for at least 10 years.
At our company, your voice will always be heard and your good ideas used when it is the best choice.
We work together as a team to provide a safe quality job.
Location: Buffalo-Niagara RegionType: Full Time JobJob No. 1523-19533Status: ClosedKeyword(s): Construction Trades, White Collar, Coordinator, Project, Manager, Project, Manager, Superintendent, Roofing & SidingDate Printed: Sep 25, 2023
Register now to learn about jobs like this